Warning: Graphic. Be Sure To Read The Content Under The Video!
COM·PRE·HEN·SIVE:
1. COMPLETE; INCLUDING ALL OR NEARLY ALL ELEMENTS OR ASPECTS OF SEXUAL ACTS AND BEHAVIORS, AND INSTRUCTION TO CHILDREN ON HOW TO PERFORM THEM "SAFELY".
THE · SEXUALIZATION · OF · CHILDREN:
1. INTRODUCING SEXUAL CONCEPTS AND IDEAS TO VERY YOUNG CHILDREN; TEACHING ELEMENTS OR ASPECTS OF NEARLY ALL SEXUAL ACTS AND BEHAVIORS TO PRE-TEENS AND TEENS, INCLUDING INSTRUCTION ON HOW TO "SAFELY" PERFORM SEXUAL ACTS, IF THEY CONSENT TO IT.
How Is This Justified And Promoted In Our Schools?

The key word is "inclusive." Activists are aggressively promoting the idea that material must be "inclusive" so that it does not "discriminate." This means that all sex acts and experiences must be taught, because if you "discriminate" against an act, behavior, or experience, then you are "discriminating" against a person.
Here's another way of saying it: Activists believe that if children are not taught ALL of the sexual acts that go along with homosexual, transgendered, or any other relationships, as normal and equal to biological procreation, then that equals discrimination against LGBTQ+ people.
Students are actively being taught that the only barrier to any sex act whatsoever, when it involves another person, is consent. Not the risk of the behavior, or the physical and emotional damage or consequences of it, but whether there is mutual consent before an act is performed. Basically, students are learning that as long as it is performed safely and there is consent, every sex act under the sun is okay!
IN·CLU·SIVE:
1. ALL SEX ACTS AND EXPERIENCES.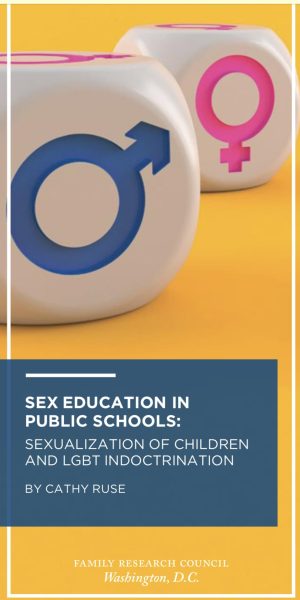 Comprehensive Sex Education introduces to children as young as four and five the idea that they can question their gender.
The material that is shown to students from elementary to high school amounts to school-endorsed, full pornographic exposure.
Be aware of the organizations and Legislators that are pushing for Delaware schools to be brought "up to national standards." After all, no state wants to be "below national standards," right?
Here's the problem — there's a mission and an agenda behind these standards.
According to national activist groups that are aggressively pushing this agenda, for state schools to meet "national standards" that are "with the times," they must teach "comprehensive sex education." That means they must teach everything — every sex act, with detailed descriptions on how to perform them. They're not just teaching biology — they're teaching 'sexual experiences.'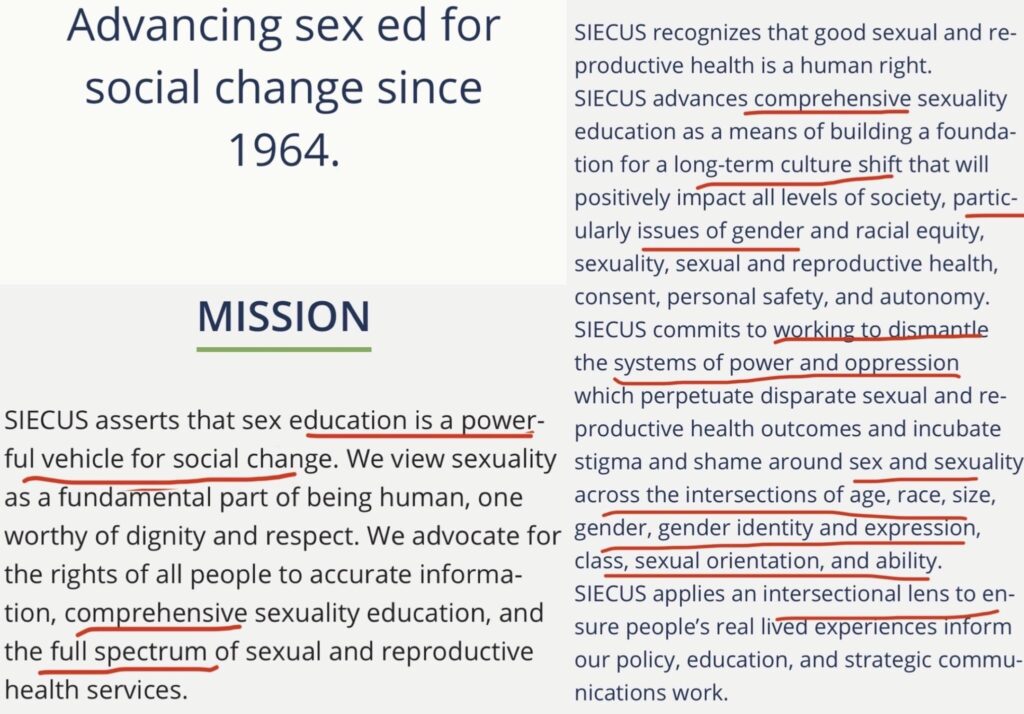 SIECUS is the source, and the vehicle from SIECUS to your children is Planned Parenthood and your Legislators!
"Planned Parenthood is the nation's largest provider of sex education, reaching 1.2 million people a year."
These standards are developed by:
1) SIECUS Guidelines for Comprehensive Sexuality Education
2) The Future of Sex Education Initiative (FoSE) developed the first-ever National Sexuality Education Standards, and National Teacher Preparation Standards.
How Will They Accomplish This In Delaware? Through Activist Legislators!
Here's just a sampling of what key Delaware Senators have to say to Planned Parenthood's survey question:
"Do you support expansive and comprehensive sex education curriculum in public schools that is inclusive of LGBTQ+ sexual experiences and identities?"
"….Curriculum should absolutely be inclusive of LGBTQ+ sexual experiences and identities because every student deserves to be equipped with information about their sexual health regardless of their sexual orientation." -Senator Nicole Poore
"Expansive and comprehensive sex education, that is inclusive of LGBT+ experiences and identity, educates young people on consent, and shares effective birth control information is a critical component of teaching our young people about sexual safety and preventing STDs and unplanned pregnancies." -Senator Kyle Evans Gay
"…In order to support inclusivity and combat societal stereotypes we should ensure that this education is expanded to include the unique experiences held by myself and all those who identify anywhere on the LGBTQUIA spectrum." -Senator Marie Pinkney
Parents! Know the full meaning of words such as "Inclusive," "Comprehensive," "Consent," "Institutionalization," and "Right to autonomy."
Parents, Only You Can Stop This Complete Sexualization Of Children.
Remember when this happened in 2017? Almost 10,000 of you signed the petition to stop it.
Parents, Grandparents, Guardians, Aunts, Uncles — if this concerns you, PUSH BACK, like so many parents across the country.
Know who is on your school board. Know what policies are being passed. Be aware and involved.
It's time to lock shields together to stop the sexualization of children.